Events
A FANTASTIC AND UNIQUE EXPERIENCE.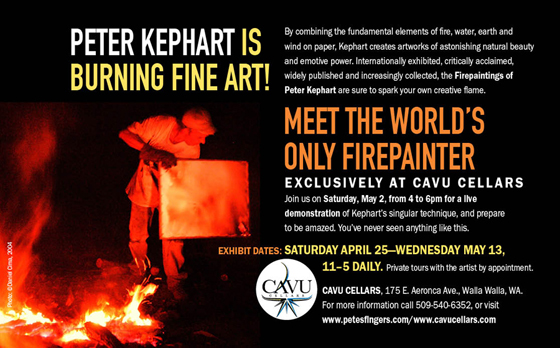 Watch Pete work his magic: The Firepainter
What the Experts Say about Pete's Art
Starting April 25th and continuing through Spring Release Weekend, we will feature world-renowned artist Pete Kephart, who is famous for his fire painting—indeed, he is the only one in the world who does what he does. A fire-painting demonstration is planned on Saturday from 4 to 6 PM.
CAVU Cellars is hosting The Mythical / Movable Blue Mountain Bluegrass Jam on May 8th from 6:30 to 10:00 PM. No cover charge. Sandwiches, cheese plates, and snacks will be available for purchase. New musicians are always welcome!
Bluegrass is an American music form that traditionally employs acoustic, string instruments (guitar, bass, banjo, fiddle and mandolin) and harmony singing. While some bluegrass jam groups are very particular about what they play and how they play it……the Mythical / Movable Jam Group is fairly relaxed. Most music can be played "bluegrass style" and you may hear a folk, old-time or even a rock tune at one of these jams.
Song choice is passed around the jam circle, so everyone gets to choose at least one tune that they know, each time around.
The Mythical / Movable Bluegrass Jam actively promotes bluegrass music and encourages people to listen, appreciate and participate in keeping bluegrass & acoustic music alive in the Walla Walla valley.
NEW ART EXHIBIT IN THE GALLERY AT CAVU CELLARS!!
We have opened our events space to local artists to hang their art and have art shows, a practice that has actually created a small but exciting art gallery. Each artist holds an opening reception where people can meet them, sip wine, and buy art—or simply enjoy the show. The events space is still available for other events.
Pete Kephart's Firepainting will be on display April 25th through May 12th. Be sure to check the information, above, to learn about this unique type of art.
Following Pete, we will feature three local artists: Dan Dunn, Brandon Hallsted, and Jim Cotts. Their opening reception is May 15th, 5 to 9 PM. We will send more information on these talented people closer to their show.
We are posting pictures and more information on Facebook.
Looking for a great space to hold an event: Our newly remodeled tasting room and event space are perfect for holiday parties, business meetings, wedding receptions, or other get- togethers. If you have a large group, we have additional space in the winery. Give Karen a call at 509-540-6351 or come out to see what we have to offer.